>
DUO Dual Vision Thermal Binoculars
Overview
Features
Specifications
Downloads
FAQs
Leave Your Message
Dual Channel, Dual Vision
The DUO provides a dual-lens system for the 'thermal' and 'visible light' channels. Use it comfortable day and night, switching between 'thermal' and 'digital night vision' modes to see your targets both 'highlighted' and with details.

Built-in Laser Range Finder
Never lost your target distance in the field. The DUO offers high accuracy built-in laser range finder to measure distances with a range of more than 1200 meters. Quick reading and easy-to-use under both 'thermal' and 'digital night vision' modes.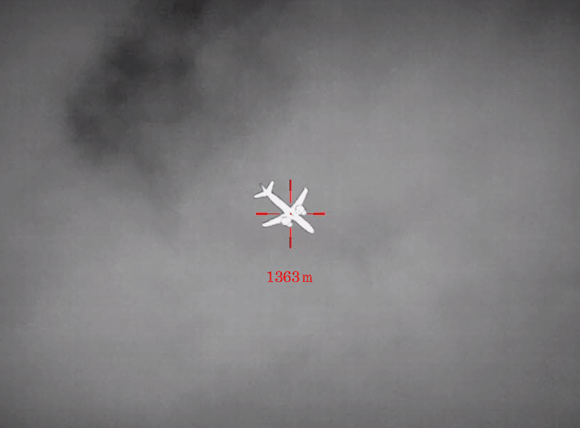 Aircraft-grade Aluminum Alloy Housing
Hard-anodized aluminum alloy housing without any plastic parts to ensure the best endurability.
Large Aperture F1.0 Germanium Lens
All Senopex uncooled thermal binoculars are built with F1.0 aperture for the best result of transmissivity and overall optics system sensitivity.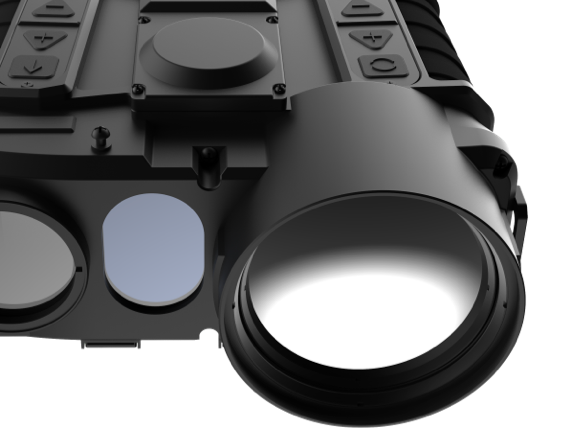 Military Standard 0.5 Inch HD OLED
High resolution military standard OLED display with high optical magnification makes hunting and searching easier. The DUO is designed for an extreme temperature range of -40°C + 60°C.
Unparallel Detection Range
Large aperture lens, high basic magnification and cutting-edge thermal imaging algorithm ensure the unparalleled detection range of 3500m (75mm lens model).
More Features
Built-in laser Illuminator

A powerful IR illuminator enables the digital night vision channel to use faint moonlight or even no light conditions.

Picture in Picture

PIP allows you to see targets on the top center of the screen, so you can keep an eye on what you're aiming for with digital magnification.

IP67 Rated

Genuine IP67 protection level with proved tests and certificate. The unit can be dropped into a body of water up to a meter deep for half an hour.

Pictures and Videos

Built-in picture and video recorder with 16G memory.

Hot Spot Tracking

Detect and track the hottest spot within the field of view in real-time.

Digital Compass

Real-time built-in digital compass to know your exact direction heading for.
Specifications
DUO Dual Vision Thermal Binoculars
THERMAL DETECTOR

Detector Type

Uncooled microbolometer

Detector Resolution

640×512

NETD

≤35mK

Pixel Pitch

12µm

Spectral Range

8~14µm

Frame Rate

50Hz

LOW-LIGHT CMOS Detector

Detector Type

Color CMOS

Detector Resolution

1280×720

Pixel Pitch

6µm

Frame Rate

50Hz

THERMAL LENS

Lens

50mm F1.0

FOV

12.4°×4.7°

Visible Light Lens

Lens

35mm

DETECTION RANGE

Thermal

2.4km (Human)/4.8km(Vehicle)

IMAGE PROCESSING

Digital Zoom

X2 X4 X6 X8

Display

OLED 1024×768

Image Enhancement

DDE

Image Correction 

Non-uniformity Correction

Polarity

Whitehot/Blackhot/Digital Night Vision/ Multiple Palettes

LASER RANGEFINDER

Wavelength

905nm

Measuring Range

1.2km

Measurement Accuracy

±1m

GPS

Measurement Accuracy

No GPS

COMPASS

Measurement Accuracy

≤2°

POWER SUPPLY

Battery Type

18650 Rechargeable Battery

Working Time

6 hours

SYSTEM ELECTRICAL INTERFACE

Serial Communication Interface

RS232

Video Output

VGA

Video Format

AVI

Picture Format

JPG

Memory Card

16G Built-in

Data Interface

USB 2.0

ENVIRONMENTAL PARAMETERS

Working Temp.

-40°C ~ +60°C

Storage Temp.

-50°C ~ +60°C

Protection

IP67

PHYSICAL PARAMETERS

Weight

1.51kg

Dimensions

190*194*73mm
Frequently Asked Questions
What is dual vision thermal binoculars?

The dual vision thermal binoculars offer 'thermal' and 'visible light' channels for users to switch between either mode. A traditional 'thermal' will only see the target get 'highlighted' without seeing the details as clear as the 'visible light'. With the 'digital night vision' channel, you could see targets with details day and night.

How many modes does the Duo thermal binoculars have?

The Duo has two types of lenses, i.e., thermal lens and visible light lens, which means it could offer 4 different modes, i.e., thermal mode, visible light mode, fusion black white, and fusion color.

What other features does the DUO have?

The DUO thermal binoculars is equipped with a digital compass, picture in picture, hot-spot tracking and other useful features to be used in multiple scenarios.

What kind of batteries does the DUO require?

The DUO thermal binoculars operates on 18650 rechargeable Batteries. The battery life is around 6 hours.

Is the DUO thermal binoculars waterproof/dustproof?

Definitely. The Duo conducted rigorous tests that are equivalent to the MIL-STD-810G and it is IP67 rated.

Do you ship internationally? How could it be safe?

Yes, definitely. We have experience exporting to more than 30 countries across the world. We know the exact procedure of handing the product from inspection, packaging, customs clearance, and courier arrangement.
The product will be packed with secure and durable packing materials before handling by the courier, and the whole process will be 100% transparent.

Do you offer customization service for the model?

Yes, sure. We are open to customization if you need. (MOQ is required)
Talk to us to Redefine Thermal Imaging
Our sales experts are by your side! Send us a quick message and let's explore the world of thermal night vision together!