>
ZEN Cooled Multifunctional Thermal Binoculars
Overview
Features
Specifications
Downloads
FAQs
Leave Your Message
Designed for the most demanding applications in all weather conditions, Senopex Zen cooled multifunctional thermal binoculars is the most advanced handheld thermal imaging binoculars in the market. Using a 15µm pitch HgCdTe focal plane array along with Senopex pioneering long-life cooler technology, the device could see through darkness, rain, fog and smoke to be the most powerful thermal imager that integrates thermal imager, 5MP night vision imager, laser range finder, GPS and digital compass all in one concrete unit.
Dual Vision, Dual Channel
Switch between Thermal mode and visible light mode (digital night vision) to detect your target either at highlighted or with details. Using as a duo channel device to survive during both day and night time.

5MP High Resolution Color CMOS Detector
2592×1944(5MP) high resolution CMOS detector provides ultra-smooth digital night vision experience. Built-in'Defog'function provides reliable and consistent imagery quality.
Built-in Laser Range Finder
High accuracy eye-safe laser range finder for measuring distances with simple one-click. Senopex provides customize laser range finder solution from 1km to 10km to detect animals, man-size targets, vehicles and buildings in any weather conditions.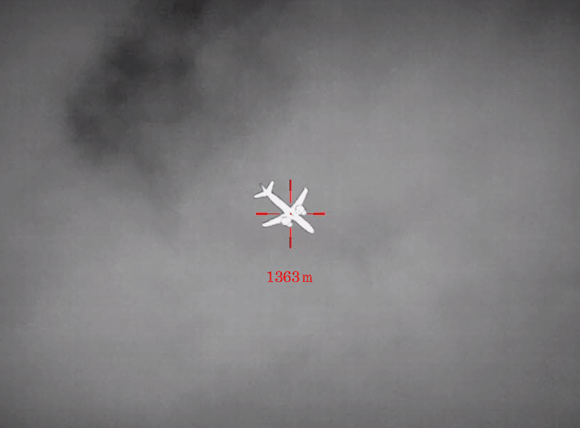 Built-in GPS Module
High accuracy GPS system enable the device to recognize your location anywhere and anytime.
Built-in Digital Magnetic Compass
Dynamic digital compass function enables you to know the exact direction heading for.
Aircraft-grade Aluminum Alloy Housing
Hard-anodized aluminum alloy housing without any plastic parts to ensure the best endurability.
Continuous Zoom Germanium Lens
40-200mm continuous zoom germanium lens for thermal mode 4.5mm~148.5mm continuous zoom germanium lens for visible light mode.
Military Standard 0.5 Inch HD OLED
1280x1024 High resolution military standard OLED display with high optical magnification makes hunting and searching easier. The ZEN is designed for an extreme temperature range of -40°C + 60°C.
Unparallel Detection Range
Continuous zoom lens, high basic magnification and cutting-edge thermal imaging algorithm ensure the unparalleled detection range of 7.5km for man-size targets and 15km for vehicles.
Customizable Solutions for Your applications
From the size of the lens and the range of laser range finder to specific features of the device, we are able to offer customizable solutions per your request.
More Features
Picture in Picture

PIP allows you to see targets on top center of the screen, so you can keep an eye on what you're aiming with digital magnification.

IP67 Rated

Genuine IP67 protection level with proved tests and certificate. The unit can be dropped into a body of water up to a meter deep for half an hour.

High Frame Rate

High frame rate ensures vivid and flawless thermal image always displayed.

Pictures and Videos

Built-in picture and video recorder with 32G memory.

Hot Spot Tracking

Detect and track the hottest spot within the field of view in real-time.
Specifications
ZEN Cooled Multifunctional Thermal Binoculars
THERMAL DETECTOR

Detector Type

HgCdTe Cooled

Detector Resolution

640×512

NETD

≤20mK

Pixel Pitch

15µm

Spectral Range

3~5µm

Frame Rate

50Hz

LOW-LIGHT CMOS Detector

Detector Type

5MP High Resolution Color CMOS

Detector Resolution

2592×1944

Pixel Pitch

2.7µm

Frame Rate

50Hz

THERMAL LENS

Lens

40mm~200mm F4.0

FOV

2.8°×2.2°~13.8°×11.0°

Visible Light Lens

Lens

4.5mm ~ 148.5mm Optical Zoom

DETECTION RANGE

Thermal

7.5km (Human)/15km(Vehicle)

IMAGE PROCESSING

Digital Zoom

X2 X4 X6 X8

Display

OLED 1280×1024

Image Enhancement

DDE

Image Correction 

Non-uniformity Correction

Polarity

Whitehot/Blackhot/Digital Night Vision/ Multiple Palettes

LASER RANGEFINDER

Wavelength

1535nm

Measuring Range

8km(Customizable)

Measurement Accuracy

±1m

GPS

Measurement Accuracy

±3m

COMPASS

Measurement Accuracy

≤2°

POWER SUPPLY

Battery Type

18650 Rechargeable Battery

Working Time

4 hours

SYSTEM ELECTRICAL INTERFACE

Serial Communication Interface

RS232

Video Output

PAL

Video Format

AVI

Picture Format

JPG

Memory Card

64G Built-in

Data Interface

USB 2.0

ENVIRONMENTAL PARAMETERS

Working Temp.

-40°C ~ +60°C

Storage Temp.

-55°C ~ +70°C

Protection

IP67

PHYSICAL PARAMETERS

Weight

3kg

Dimensions

310×220×120mm
Frequently Asked Questions
What is cooled multifunctional thermal binoculars? 

By definition, it means the cooled thermal binoculars integrate many other
features all in one device. For the Zen model, the device has thermal imaging,
digital night vision imaging, laser range finder, GPS, digital compass, and
video recorder. 

Why do I need this model?

The Zen cooled multifunctional thermal binoculars is designed for the most demanding applications. Compared to uncooled thermal imagers, it has higher thermal sensitivity and better performance concerning thermal imagery.
 
As multifunctional thermal binoculars, it offers a one-unit solution for all
tactical missions. You don't need to carry any other devices for detecting
targets day and night or measuring distance. It is portable and easy to use in any scenario.

Can I customize my laser range finder?

Yes. We offer customizable service on laser range finder with a range of up to 10km. Before selecting a long-range capability LRF, please make sure you are using the same level of optics.

Is the laser range finder of your unit eye-safe?

Can I use the model in the daytime?

Yes. Feel free to switch between thermal and visible light mode anytime you want.

Can you offer an extensive lens system for a longer detection range?

Yes, we can offer customized lens solutions based on your specific request. (MOQ is required)

Do you offer a training service for the model?

Yes, we do offer a free remote training service.
Talk to us to Redefine Thermal Imaging
Our sales experts are by your side! Send us a quick message and let's explore the world of thermal night vision together!